Control Your Workflow
From the moment your hotline rings with a complaint, an email tip is sent in, or you get an online form submission, your investigative case tracking process is well underway. When you have manual processes in place, you are opening the door for inconsistencies and human error. Let us help you limit your risk by securing data, automating processes, capturing information and delivering metrics along the way.
With CMTS as your case management and tracking system, user workflow will be consistent and all of your data will be up-to-date in one central and accessible location. The case workflow will be configured to your agency's processes. Special labels and entry fields can be set up to meet your specific needs. Standardized user workflow limits risk for the entire agency and its stakeholders.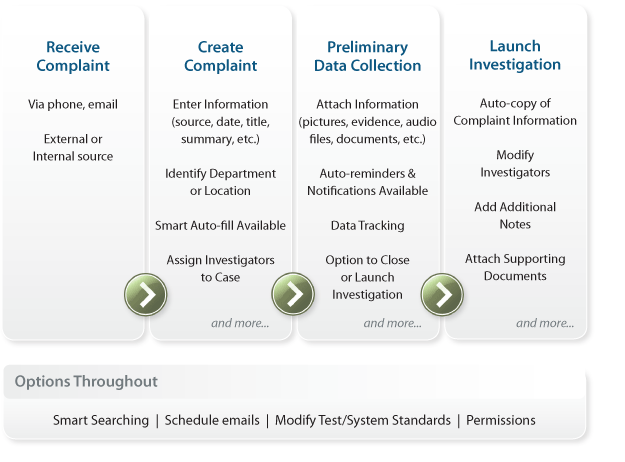 Idle-case tracking and other time-based notifications will help you end unnecessary delays and avoid lost cases due to inaction. You can also use automated notifications triggered by case activities of your choice to manage team workflow, maintain the momentum of the case and avoid the lack of communication that can lead to balls being dropped.
Throughout standard workflow, options seem endless with smart searching, scheduling emails and running reports. CMTS simplifies and enhances investigative case tracking and reporting with more than 30 standard reports instantly available. Ask about reporting and the optional customizable reports available in our implementation packages.
Users will be pleased with how easy CMTS is to use. When building CMTS we specifically set out to create a software that would be intuitive for investigators to use. Many of our active enhancements to CMTS are implemented with that same goal in mind, with a number of those coming from suggestions from our clients.
CMTS was built to serve investigative agencies of all sizes. If you are interested in an investigative case tracking software to help you standardize your workflow and close cases faster, we invite you to look at the additional pages on our website, take a quick tour of our software, and to schedule a demo of CMTS by clicking on the button below.