If an agency was absolutely determined to find out which employee reported malfeasance, how successful would they be?  It depends on how careful the employee is when speaking up – and unfortunately, they have to be much more careful than they would have decades ago. Which means that for investigators, protecting whistleblowers from retaliation can be a very difficult job.
A recent infographic titled "Whistleblow While You Work" in Popular Science explores just how careful employees have to be in order to fully cover their tracks.  The article isn't provided on their online site, but a snapshot below shows how many steps must be taken to ensure security.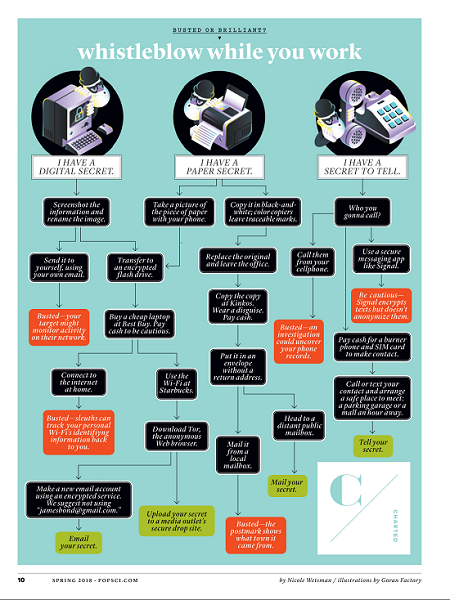 Among the questions posed to a potential whistleblower:
Did you use email? If so, your employer might monitor network activity and discover that it was you who reported it.
Did you use your cellphone? If it's an agency-issued cellphone, the records might be available.
If the evidence is a document, did you copy the document and print it on a color printer? If so, the printer may have left tiny marks identifying which printer was used.
While technology has made it easier for very sophisticated technology users to remain anonymous, it's also made it much more difficult for the rest of us to stay anonymous.  And the more employees think about this, the less likely they are to be comfortable that their tip won't be traced back to them.
Protecting Whistleblowers
Here are a few things your agency can do to help keep them anonymous, and make it more likely they'll report tips.
Provide an online submission system which they can use from home to provide complaints to the oversight and investigations team.
Ensure your data systems are protected from access by employees outside of the investigations group.
Provide a tip sheet to all employees which explains how to report information anonymously should they wish to do so, and the legal protections they have as a whistleblower.
To learn how CMTS can help you protect agency whistleblowers from exposure, call us at 919-600-5102 or email us at Team_CMTS@MyCMTS.com and ask about CMTS software and the accompanying Online Intake System.